!******************************************Body Begins Here>




<!*****************************************************************PAGE BEGINS HERE>
Direct Current Theory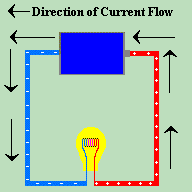 If we take a light bulb and connect it to a battery, the bulb will light up. The lamp lights up because current flows through it.

The current leaves the battery at the negative terminal, flows through the bulb, and returns to the positive terminal of the battery *(see note 1). The electrons flow in one direction. This is known in electronics as DIRECT CURRENT flow because the electrons flow only in one direction.

The arrows in the figure show the direction that the current would flow in this circuit. As long as we can follow the current from the negative terminal of the battery throughout the entire circuit, and back to the positive terminal, we have a COMPLETE CIRCUIT PATH . It is very important to remember that current will ONLY flow if the circuit path is complete. If we were to remove the light bulb from the circuit, the circuit path would not be complete, and while voltage would still exist on the battery, no current would flow through the circuit.

In order to have any complete circuit, you are required to have at least 3 parts:
(1) The SOURCE or SUPPLY of Voltage.
(2) The LOAD which uses the source Voltage.
(3) A complete path of connecting wires.

*Note 1: There are schools that teach that electric current flows from positive to negative (mostly Engineering schools) and schools that teach that electricity moves from negative to positive (mostly tech schools). Neither are truly wrong - a point which I will divulge later on in the text. The direction of travel is not as important at this point as the concept that it MUST form a complete ciruit in order to have current.



<!*****************************************************************PAGE ENDS HERE>

<!*****************************************************************TABLE BEGINS HERE!>

<!*****************************************************END OF TABLE 1 >
---
<!********************** BOTTOM OF PAGE **********************************************************************>
| | |
| --- | --- |
| | Otherwise - please click to visit an advertiser so they know you saw their ad! |
---
This Course was written by Ray Dall © All Rights Reserved.
This page and all its content Copyright, Trademarks, Intellectual Properties
and other legal issues 1994, 1995, 1996, 1997, 1998, 1999, 2000, 2001, 2002, 2003, 2004, 2005, 2006, 2007, 2008, 2009, 2010, 2011 Ray Dall.
All Rights Reserved.
And for what it's worth... this page was last updated HexDate 01-11--7D1

VISITORS: